Embracing Inclusive Play at Valley View Community School Playground
'Play for all' is an easy concept to get behind, but incredibly difficult to execute well. On Friday, April 28, 2017, the nation watched as students of varying backgrounds and abilities played on the newly opened Valley View Community School playground. Embracing the seven principles of inclusive playground design, our experts at Sun Country Playgrounds, created a playground dedicated to sparking curiosity and play to inspire the whole child, and every child.
Seven Principles of Inclusive Playground Design
The mission behind the seven principles of inclusive playground design is to create truly inclusive play environments for people of all ages and abilities. It is dedicated to meeting the needs of every child by providing opportunities for individuals to be engaged physically, cognitively, and socially. In order for this mission to become a reality, Sun Country Playgrounds expertly incorporated these principles throughout the Valley View Community School playground.
The 7 principles of inclusive playground design are:
Be fair: This principle is about creating equal opportunity for all, throughout your space. In practice, this means keeping the physical, cognitive, social, and sensory abilities of everyone in mind, so no one feels overwhelmed or excluded.
Be included: Barriers for inclusion during play are often literal. Therefore, it is important to include ramps, links and transfer platforms, as well as climbers and slides to promote access.
Be smart: This principle could also be thought of as "be intentional." Smart design means creating a well-organized space that sets clear expectations and reinforces play patterns.
Be independent: Children navigate spaces in unique ways, and a playground should take advantage of this. Creating a space that not only has accessible features but also accessible ways to travel between features is important.
Be safe: This principle is paramount to the success of any playground, especially one dedicated to inclusivity. Make sure to keep visibility throughout the space in mind during the design process, and allow for comfortable spaces for both supervisors and participants to rest.
Be active: In this sense, activity means sustained and engaged activity that could encourage cooperation and socialization if desired.
Be comfortable: Creating a space that takes into consideration the sensory capacity of all children is important. Incorporate features that are easy to reach while also keeping in mind the noise level of your space.
Sun Country Playgrounds Goes Above and Beyond
"This is our gift to the valley" – Catherine Kawaguchi, superintendent of SSUSD
The play space we designed for Valley View Community School Playground received national acclaim because of our seamless integration of the seven principles throughout the beautiful, ocean-themed playground. "This playground has been universally designed to address the needs of the whole child particularly in areas of social, sensory, cognitive and communication," beams Catherine Kawaguchi.
The blue and green space equally prioritizes sound, sight, and touch so that a variety of senses can be engaged without creating an overwhelming space. Features like a smooth moving boat and noise-making musical notes fully embody this principle. We also thoughtfully incorporated accessibility touchpoints like wheelchair-accessible ramps and harnessed swings, so that no part of the playground feels inaccessible. This dedication to access did not go unnoticed. In fact, this playground has already started being incorporated into special education curriculum and occupational therapy sessions.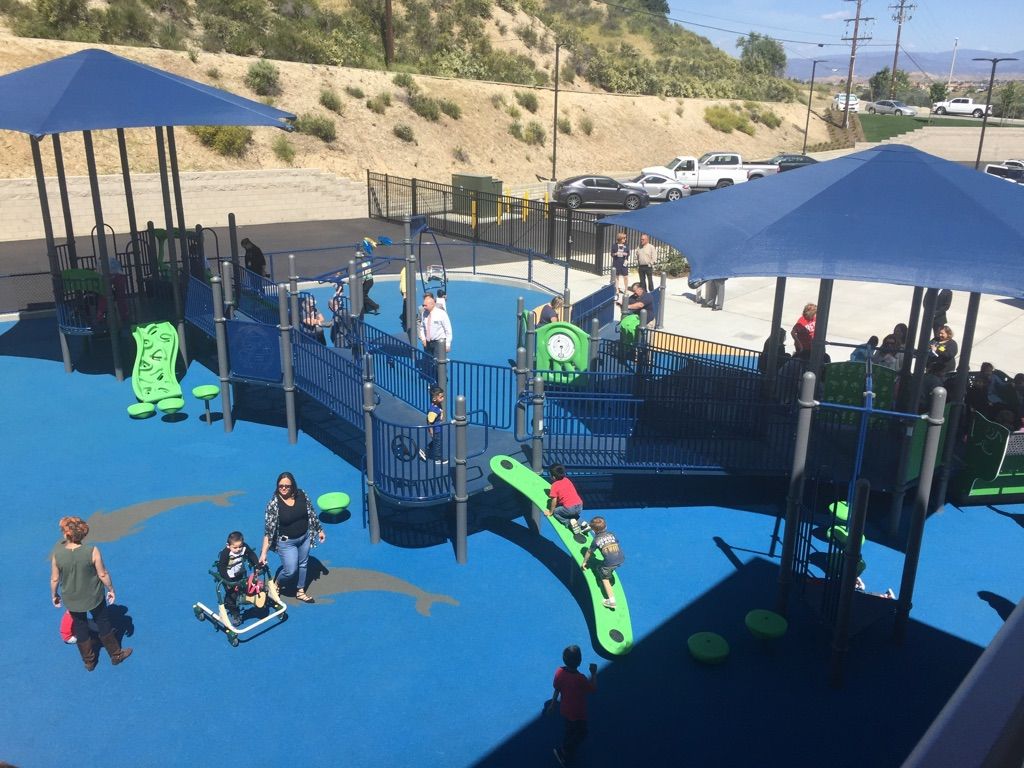 Play is universal. We all deserve the right to feel excited and inspired through play. Our team of designers utilized their 20+ years of experience to create a fun, imaginative, and safe place that will delight participants for years to come.
"What the school district has done here is given the opportunity not to discriminate based on ability. It will be recommended at other places to build playgrounds like this. It is a leader in development and forward-thinking of how playgrounds should be built to include all abilities." – Tim Hollinger, president of Sun Country Playgrounds
If you are interested in learning more about our playground design process, call our experienced team today at (661) 529-7133 or reach out online.