Freenotes Harmony Park Musical Playground Equipment
Bring The Stimulating Sound Of Music To Your Installation!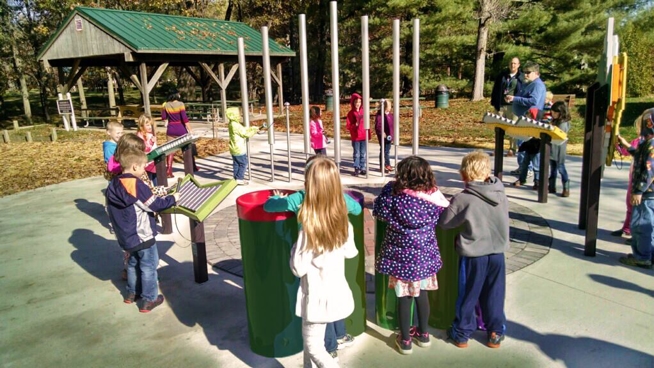 Music has long been known to encourage creativity, stimulate the mind, and bring joy to people of all ages around the world. Freenotes Harmony Parks combines these qualities with the fun, exercise, and energy release of playground equipment to create fun and visually attractive musical sculptures for all types of parks and playgrounds.
Sun Country Playgrounds is proud to offer Freenotes Harmony Park playground equipment in our installations! Whether you're looking to build a new playground for a local park, school playground, restaurant play space, or any other application, our Southern California playground equipment company can outfit you with these high-quality musical pieces that will thrill kids and adults alike! All of the products we use at Sun Country Playgrounds are American-made, and we're proud to partner with Freenotes Harmony Park to offer you these outstanding musical playground equipment installations found in all 50 states and in more than 30 countries on five continents all around the world!
Learn more about installing Freenotes Harmony Park equipment in your playground! Contact us online or call Sun Country Playgroundstoday at(661) 529-7133 for more information.
Why Choose a Freenotes Harmony Park Installation?
Freenotes Harmony Park was founded more than two decades ago by a Grammy Award-winning musician who had the idea of combining music with play to make creating appealing sounds fun and interactive. Freenotes Harmony Park installations are carefully researched, fully inclusive, and require no talent or skill to create beautiful tones and patterns that everyone can enjoy!
Here's why you should consider Freenotes Harmony Park equipment for your playground:
Maintenance-free: The sculptures are all built to the highest standards of durability and longevity, and require no tuning to ensure consistent, harmonious pitches.
Accessible and inclusive: Everyone can have fun with one of these pieces of equipment, including children with disabilities or impairments that make enjoying other kinds of playground structures overly difficult to enjoy. We can even install accessible mallets that make gripping and playing easier for everyone!
Aesthetically pleasing: Harmony Park installations are attractive and eye-catching, combining bright colors with fun and unique shapes to create a piece of equipment that you've never seen before.
Perfect tuning: Park visitors will be greeted by the soothing sound of perfectly balanced notes, creating beautiful sounds no matter how they're struck.
Why Choose Us for Your Music Park Project?
Sun Country Playgrounds has been developing music parks in Southern California and the rest of the state for more than two decades. We have dozens of installations all around the state and we're proud to play such a key role in improving our community.
We take pride in our flexibility, and can even weave a Freenotes Harmony Park piece of equipment in with our other playground inventory and options to create a truly unique playground that's both stimulating and engaging for any child!
Call Sun Country Playgroundstoday at (661) 529-7133 and get in touch with us to discuss your playground ideas! Click the images below to see our photo gallery!