School Playground Equipment in Southern California
Inspire Imaginative Play with High-Quality Playground Features
Play is one of the most important things kids can do: It stimulates the senses, encourages friendship, and lets kids test boundaries in a safe environment – all of that while burning off a lot of extra energy! Nowhere where play can do all that is possible except at a playground outfitted with everything from classic features to newer products that enhance multiple ways of play for all ages and levels of ability.
At Sun Country Playgrounds, we've seen the way playgrounds have developed during our 20+ years of business and have kept up with the trends to offer the latest in-demand solutions for playground equipment in Southern California. Every American-made product we offer is sourced from trusted and reliable manufacturers using the best methods and materials on the market to ensure quality, safety, and durability over the years.
We're excited to see what you want to add to your playground, so show us what you want by contacting us online or calling (661) 529-7133 for more information today.
Offering the Classics, New Products, Themed Features & More
Classic features like slides, climbers, and horizontal bars are still standard fare for fun in nearly every playground design. Even if you think you've seen every iteration of these features before, manufacturers and designers are constantly working together to create refreshed takes on these timeless classics. That's all part of the ongoing development of fun for playgrounds, which includes new products, ideas, or aesthetics based on themes like nature, rocket ships, or the deep sea. All of these options mean you can rest assured that we'll help you find the cutting edge of fun for your playground.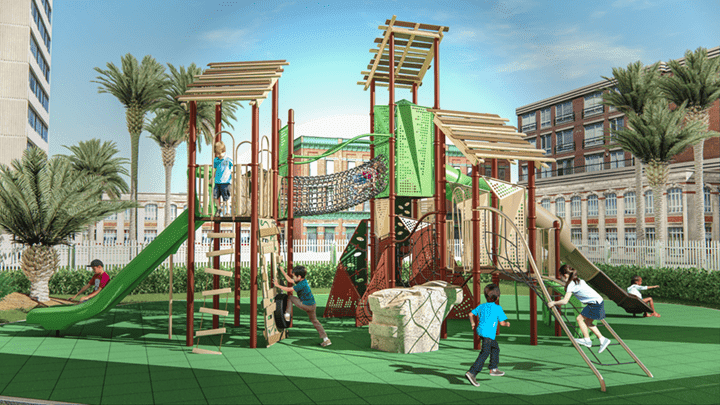 Also Offering Inclusive Options
In addition to designs that meet standards according to the Americans with Disabilities Act Accessibility Guidelines, we offer products that children of all abilities can enjoy. Although designed to ensure any child can find something to enjoy on a playground, these types of playground equipment still appeal to children's cognitive, physical, social-emotional, sensory, and communication development.
Some of these types of products include:
Wider walkways and ramps with shallow slopes
Rotating maze panels
Tic-tac-toe panels
Roller tables
Matrices with fun shapes, textures, and colors
For more information about our Southern California playground equipment offerings, give us a call at (661) 529-7133!